After almost a layoff of a month, the battle will resume between Phill Hellmuth and Daniel Negreanu. High Stakes Duel II will resume its festivities this Wednesday, broadcast over the streaming outlet PokerGo. It will be an opportunity for Daneil Negreanu to draw even after what was an exciting opening salvo from the competition.
The Stakes are High
The stage will be set at the studios of PokerGo on Wednesday night, while the stakes for play have gone up. Instead of the $50,000 buy-in from the first match, the stakes have gone up to $100,000 for this phase of the battle. Hellmuth, having won the first leg of the fight, will have his $100,000 already on the felt, while Negreanu will have to bring a fresh $100,000 to the table.
Even though he won the first-round battle between the duo, Hellmuth is still not getting any respect from the betting public. MyBookie has Negreanu listed as a heavy favorite to draw even in the match, with Negreanu getting -250 for a bet ( a $250 bet would return $100). Hellmuth is currently listed at +170 (a $100 bet would return a $170 payday).
Hellmuth Comes Back from the Brink Round 1
For those who might have missed the first meeting between these players, you missed out on a memorable battle. On April Fool's Day, Hellmuth and Negreanu went in front of the PokerGo camera in Round 1 of what has been dubbed High Stakes Duel II. The first High Stakes Duel was a one-sided affair in which Hellmuth drubbed Antonio "The Magician" Esfandiari to the tune of $400,000.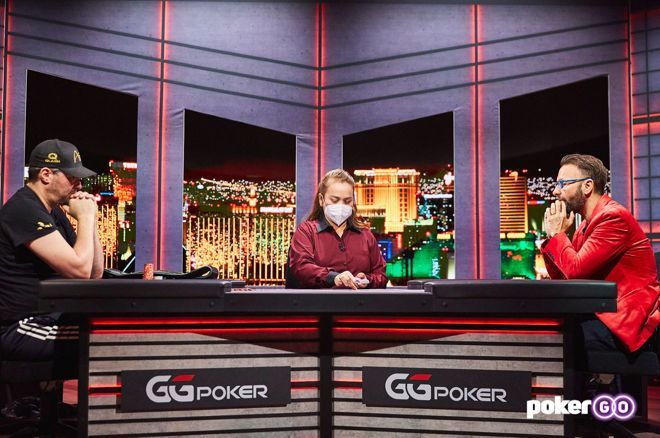 Within the first hour of the battle, Negreanu was able to get an edge of Hellmuth, and over the next couple of hours, bring the 15-time World Series of Poker Bracelet winner near to his knees. At one point Negreanu had $95,000 of the $100,000 that was on the table. It even got to a certain point where a rather cocky Negreany offered up tissues to Hellmuth as he went on lengthy tirades about how the tide of battle was going.
Hellmuth went on a streak of his own, battling back from the mat in a fashion befitting a champion. Over the span of three hours, he worked his stack back into health before taking the lead from Negreanu and closing out the more than six-hour match.
What's in Store Now?
The fireworks will hit the air again on Wednesday 8:00 PM (Eastern Time). PokerG will feature a pre-game show at 7:30 PM before the twosome step into the felt. Potential PokerGO subscribers can get in on the action along with the other poker action provided by the channel. 
---
0