Meet Aniruddha Joshi from Mumbai! Born in Pune, his story is quite interesting. He is an avid basketball player and works as a coach at the Mumbai-based NBA Basketball School. Joshi has had a long association with poker. Here are a few excerpts of his poker journeys and future plans.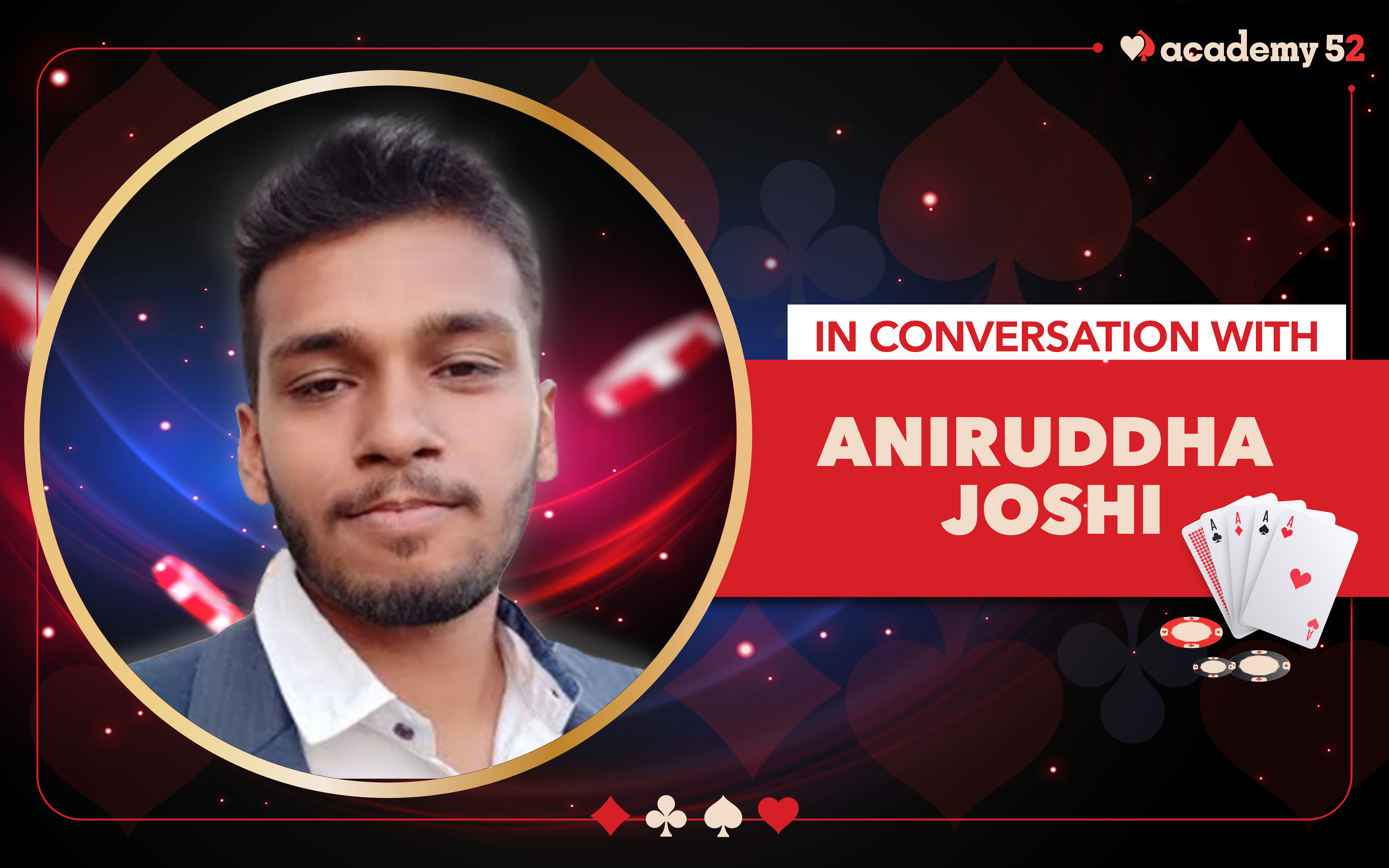 A Poker player to the core
Like many poker players, Aniruddh started his poker journey playing on Zynga. Before long, he started binge-watching videos from WSOP. What inspired him immensely was the 2003 WSOP Main Event, where Chris Moneymaker came out on top of a field infested with top pros. "That was the first poker video I'd seen, nearly four years back. It was crazy! You know, the dream run, Moneymaker converting $86 into a $2.5 Million score. An amateur going up against the pros! One of the most iconic hands that I remember was with a bluff he pulled off against his heads-up opponent Sammy Farha."
He started playing the game more seriously in 2016, spending most of his time playing tournaments. "I used to play tourneys even back then. I never played cash games. I played many freerolls, but then I started transiting to playing tournaments with small buy-ins like ₹50," he recalls.
His first big score was worth ₹24,000, a prize he pulled out in a ₹300 entry buy-in tourney on Adda52. "I was just 18, and it was a big thing for me since it was the first time I cashed big." There was some skepticism from his parents, as he informs, "The cheque came up in around two or three weeks, and my parents were really excited! They were thrilled to see it but then you know, parents are parents. They were concerned I may develop a gambling problem and lose a lot of money."
As his interest in the game grew, Joshi started devoting more time to studying the game. He joined groups like IPPA and TPG, where he contacted other players and shared information with them to improve his own gameplay. Simultaneously, Joshi started playing on PokerStars India and Spartan Poker as well. By October 2018, he had worked up a poker bankroll of almost ₹1 Lakh. "This was pretty good for me at that stage since I was also working at the time, and this was equivalent to four months' of my salary." 
Digitization of Poker
Annirudha says, "The game has rapidly been evolving and it is more about skill now than at any moment in the past. There are solvers helping us study the optimal play in particular sports, and the amount of thought that goes into each hand is insane. It is extremely draining. The games were usually played live, now with the online games, the game of poker is much about playing optimally , i.e the strategies, the meta, and playing more and more like a machine would than like playing solely on reads as it previously was. With the change in players everyone has to adapt or get left behind. You will find players studying spots for days at a time, the game has evolved a lot, and is continuing to evolve even more."
Adding that social media today plays a big role in attracting new players, he said, "Who wouldn't want to convert $86 into 2.5 Million? Of Course, the sites optimize social media to get newer players on board, some tactics are a little in the gray area, but, I guess it has been normalized so heavily that all sites do it."
There is actually no one surefire technique that can guarantee you wins, that's the beauty of it. There is no wrong way of playing poker. But key aspects that can help you improve your game can be being mentally strong, being disciplined, and to always keep working on your game

Aniruddha Joshi on the secret to a good game
The Best of the Best
Joshi's best played tournament so far was Pocket Kings on Pocket52 wherein he cashed 1.5 lakhs. He says,"I have had several cashes of over 1 Lakh however, as you start playing more and more it becomes less about the money and more about beating good players, so my best tournament imo would be the 8 max sng I played in PSL, where I shipped it, and had the opportunity to bust Abhinav Iyer, who's probably one of the top players in the country"
Basketball over Poker? 
Aniruddha has been coaching the sport of basketball since the age of 16. He says, "I am also a certified basketball referee and still do coach a few teams, most of it has stopped due to covid, but once schools resume, I will definitely be coaching part time as well. Basketball is something I love, and a lot of the time, before a big day of grinding MTT's I usually go play basketball. It's like a pre game ritual. So yeah, I guess basketball would be it."
The pandemic effect and the Road ahead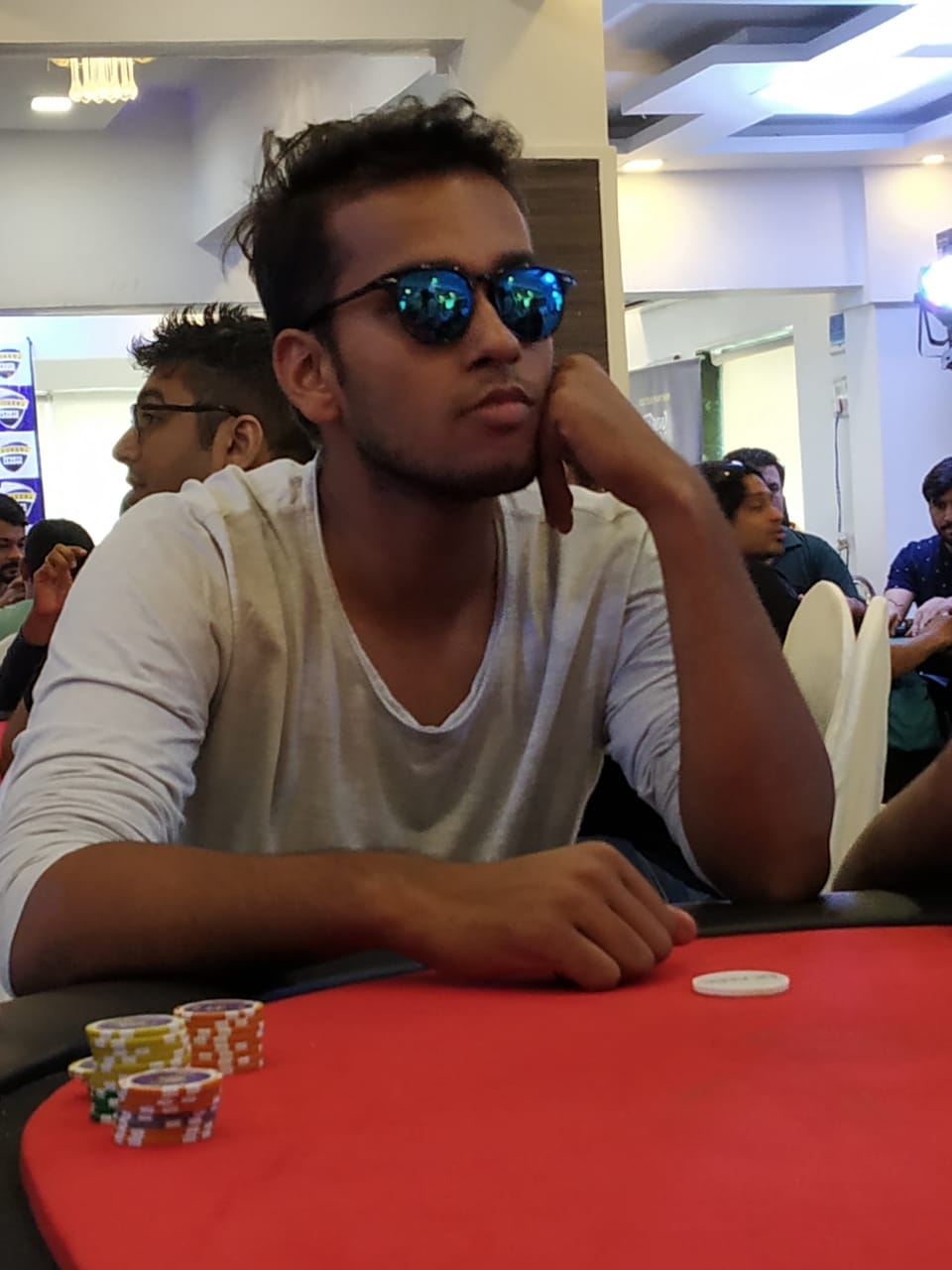 The pandemic impacted Joshi more significantly than others as it disrupted his basketball-coaching regime. This, in turn, prompted him to start devoting more time to poker. "The turning point has definitely been Covid as I was able to play much much more since the lockdown started in March 2020."
He has also experienced a gradual change in the way he spends his weekends. He says, "Sundays are never for chilling anymore. It's always grinding. One of the biggest opportunities I have gotten in the game so far has to be playing in PSL V. With the likes of Aditya Sushant and Gokul Raj, it has been the most amazing poker experience so far!"
Aniruddha's plan 5 years down the road is to play the WSOP Main Event  in Vegas. He says, "The buy in is $10000 , and there are over 8000 people who battle it out for the bracelet! Ofcourse , it is a dream to win the WSOP main event!"
Hear from the pro himself!
Check out this exclusive interview with Aniruddha Joshi on Academy52 as he shares his experiences, poker secrets and lot more!
Aniruddha Joshi is one go-getter who is determined to get better at the game. We wish Joshi the very best for future poker endeavours! 
---
1