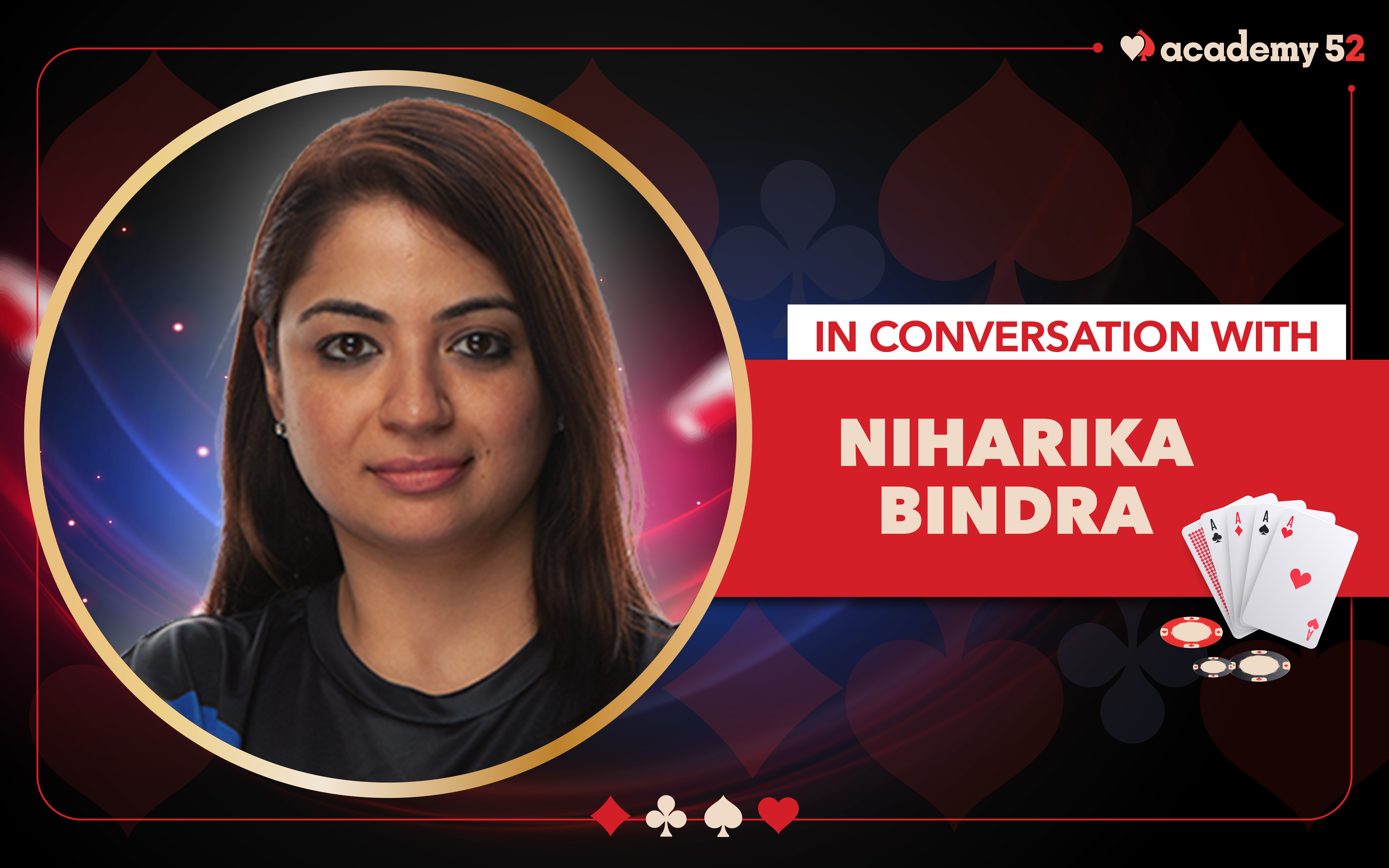 Poker has been a male-dominated game in India for a long time. But this is changing quickly with growing participation of women in the game. Indian women have taken to poker in a big way and many of them are doing pretty well by cashing and winning both live and online events.
Among these talented ladies, one name that deserves a special mention is Niharika Bindra. A foodie and an avid poker player, Bindra started playing poker back in her college days after a close friend came back from the states and taught her the game. She immediately fell in love with the sport and has never looked back since then.
Niharika Bindra is a role model for many aspiring female players to take-up the game. She has been around the circuit for a decade. Her first live tournament dates back to 2011 when she final-tabled the India Poker Open 5K NLHE Rebuy. She won her first live title in the India Poker Legend NLHE Turbo Rebuy.
She has been playing the game full-time since 2018. The team at Academy52 caught up with her to know about her poker life, achievement and more. Here are the excerpts.
How did you start your journey as a professional poker player? Was there a moment/ incident that sparked this passion in you?
I fell in love with poker the first time I was introduced to it by a friend. We were keen flash players during Diwali when we were younger and so the gamble instinct made me a true fish for poker in the early days. But when I got sick of losing, I decided to actually play to win and not gamble. Had many discussions with better players, followed all the few poker shows that used to exist in those days and played with players who had been playing and winning for ages. In turn my game got better and I realised that it was almost impossible for me to work in the fashion industry and give poker a fair shot. Because with no sleep in my life, I was not giving either my hundred percent attention.
In your learning stage, what resources did you use to educate yourself about the game?
Kind of already answered this in the first question – but another thing that deserves a mention is Zynga poker on Facebook. Played endless hours of it collecting millions of coins and believing I was practicing the game but pretty much just going all in on anything.
How have poker players and their game changed over the years?
There is so much more content out there today for anyone who is willing to learn or work on their game. There are free tutorials, podcasts, bootcamps, videos, streams, information in endless. And the new generation of poker players are all making full use of all this information and growing with it. When we started playing all we had was YouTube.
Did social media and the digitization of poker have a positive or negative impact on the game of poker?
It has most definitely had a positive impact on poker. When I started playing, hardly anyone in India had even heard of poker. I definitely hadn't. The thought of it being played professionally eventually in life never even crossed any of our minds. But it's thanks to social media and all the big poker leagues that have happened here, many of them even being televised that has spread awareness about poker. Now if we tell people we are professional poker players they are intrigued, rather than shocked or surprised like it used to be 8-9 years ago. A lot of it is thanks to the power of social media.
Describe your best game and tournament to date? What made it your best game?
Haha any tournament that I have won or will win will always be in my best tournament category.
What's the biggest mistake you've ever made during a poker game?
I have been playing for so many years, I have made multiple mistakes in many games. Sometimes you make bad calls sometimes you make bad folds. But like I mentioned before, the point is to learn something from each game and move on from the mistakes, not hold on to them.
Patience, learning from your mistakes and constantly working towards improving your game. Also you can't just start playing and expect that you will be great at it. One has to definitely put in the hours and work hard constantly to become better.

– Niharika Bindra on the secret to becoming a good poker player
What has been a turning point in your life in terms of this game?
Turning professional was definitely my turning point. The day I realised that I can play poker successfully and support myself doing something that I love, something that I'm happy to do morning, noon and night. Something that doesn't even feel like work to me and makes me happy and grow as a person while keeping my mind sharp.What more can one ask for.
Can you describe the reality of being a professional poker player?
People think it's an easy life, it's a good life definitely but it's far from being easy. We are awake all odd hours of the night, sometimes getting in only a few hours of sleep before getting back on the table. We have to deal with downwsings – sometimes for months, and all the pressure if you haven't been performing for a while. Just like any other sport a lot of hard work goes into being successful at poker too. Professionals have to put in A 2lot of volume and that too mainly at night, along with studying and managing the other aspects of their lives. Having said that, the freedom of being your own boss and travelling to play, the friends you make along the journey and the love for the game, all make it worth it.
How do you feel about the future of a Professional Poker Player?
I think this is just the beginning for poker in India. We already have some phenomenal players in our country and its only going to get better.
Do you have any tips/ suggestions for aspiring professional poker players? What is that one suggestion you wish someone told you when you were starting out?
Manage your bankroll well. It is very easy to get carried away in the poker lifestyle. Like they say, don't spend it all at once…
They say poker is a lot like life. What life lessons do you think you've learnt from playing poker?
 Patience definitely, and to be a good judge of character. I believe I can catch a lie easier than the next person. So don't try and bluff me
---
0