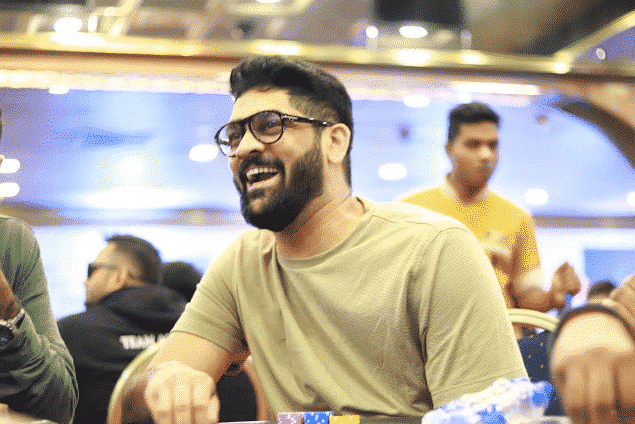 Naresh 'emperor457' Veeravalli, one of the top 30 Indian poker players across multiple rankings, emerged as the winner of The Mint tournament, Adda52's flagship event with ₹15 Lakhs GTD. With 409 registrations in place, the tournament went well over its GTD prize pool. With seven hours of continuous grinding, Naresh got the job done and won ₹3.29 Lakhs in poker winnings. Jayjit 'pokerminator' Ray finished runner-up and won ₹2.67 Lakhs for his game. Other notable winners were Nikhil 'nickel0992' Chaudhary, Kanchan 'thandicoke' Sharma, Arsh 'bigggtymer' Grover, and Gagandeep 'gaganhyd' Singh, who stood 4th, 5th, 7th and 8th respectively.
But that was not all. Naresh Veeravalli not only shipped The Mint, but he also played tremendously to become the winner of The Hexagram tournament on the same day, another Adda52 Tuesday event. The ₹3 Lakhs GTD tournament only got 143 entries and had to witness a deficit. Winning the second title of the night, Naresh added ₹84,750 to his poker winnings, taking the tally to over ₹4 Lakhs in a day.
Naresh's heroics are not unheard of, especially on Adda52. The poker star became the talk of the town when he shipped the ₹30 Lakhs GTD AOPS Godfather, at the Adda52 Online Poker Series (AOPS) that offered an overwhelming INR 7 Crore GTD prize pool, back in April 2020. As expected, the tournament got an overwhelming response, and generated almost 900 entries, and went over the designated prize pool, ending at a phenomenal ₹44.80 Lakhs, which was shared by nearly 100 top finishers. Naresh took down his competition after some efforts and took ₹10.3 Lakhs in poker winnings, his second-biggest win till date.
A regular in the Indian poker circuit, Naresh Veeravalli is having a good run when it comes to tournaments. The online poker crusher has already won over ₹50 Lakhs on Adda52 alone, while his biggest win came on Spartan Poker last month, where he won ₹17,79,900 at the Millionaire tournament with 1 Crore GTD.
While Veeravalli cruises through tournaments every week, is he the next big thing Indian poker is going to see?
What is your poker story? Let us know in the comments.
0