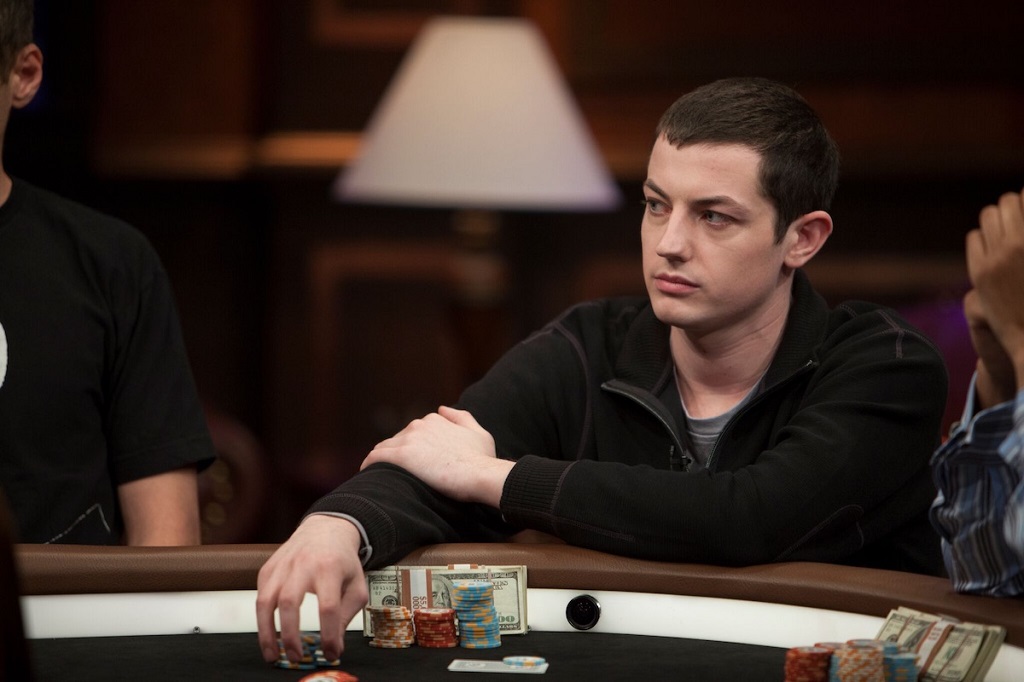 A $50 deposit in Paradise Poker in 2004 changed the life of 17-year-old Tom Dwan. He started with the $6 'Sit and Go Tournament' with two-third of the Paradise money and turned the remaining into millions over the years. It's been a rollercoaster ride for our champion, known as Durrrr throughout his career. Tom Dwan's first record on the online stakes gained him a colossal amount of money and fame. 
By the end of 2007, Dwan went home with a 6 figure amount, 4th spot valued for $324,244 at the World Poker Finals and continued till early 2008.
Sweeping over the poker legends
2008 would be the year that set Tom Dwan in motion on online poker, a lollapalooza year that witnessed him book a $5.31million profit at the high-stakes cash tables on Full Tilt. FTP scaled new heights with stakes of $500/$1000 and pots exceeding half a million, regularly. At the closing of the year, Dawn scored two bumper pots, one of NLHE and one of PLO, with Di Dang aka 'Urindanger', Ilkka Koskinen aka 'LokoIsBack' and Ilari Saharies aka 'Ziigmund' having big scores as the world's best battle until the new year.
The Durrrr Challenge
2009 came with an idea in Tom Dwan's mind, and it was a disastrous one. He announced a challenge called' The Durrrr Challenge'. The Full Tilt Poker champ offered all volunteers a challenge of $200/$400 blinds over 50,000 hands, but with a twist. After completing all the hands, the loser will pay the winner an additional side bet. The bet was set at $1.5 million for Dwan to his opponent's $500,000.
The first player to find the courage and go against Dwan was Patrik Antonius aka I_Knockout_U. The match went on, but after 40,000 hands and a $2 million loss, Antonius called it off. When the winters rolled in, his luck rolled out, and Dwan lost millions within days. Phil Ivey, Ilari Sahamies and Viktor Blom, who was an anonymous newcomer, ripped his bank account into shreds.
Going Back to FTP
After that horrendous match, Dawn signed up for Full Tilt Poker pro. It was supposed to help the players play through multi-million downswings but came running down in a few years. At Dawn's signing celebration he took down three players in the Full Tilt Poker Durrrr Million Dollar Challenge.
He defeated Ziigmund in the 500-hand heads-up challenge, lost to Marcello 'luckexpress' Marigliano and outplayed Sammy 'Any Two' George. He finished with over $795,500 in winnings.
High Stakes Poker Show
The show recorded some of the best Tom Dawn poker pots. In 2008, he won a $919,600 pool against Barry Greenstein where he cracked Barry's aces with his queens. Phil Ivey became his next victim in a bank that topped $1,108,500, where Tom Dawn broke his own record. Eight years down the line, he came second in the most significant cash game pot of $2.353million, after Paul Phau.
Unexpected Durrrr Challenge
2010 August saw the commencement of the 2nd Durrrr Challenge. During this period, Tom Dawn's story was touching success, and he became one of the most famous online pros ever. But luck is not always with us, this time the opponent was Daniel Cates aka 'jungleman12'.
The match setup was the same as before with 50,000 hands of high-stakes and no limit.
At 7,000 hands into the match with 43,000 agreed-upon completion, Cates was up $700,000 already. When Cates was up with $1.2 million in 19,335 hands, Tom Dwan walked away from the match. It's been a decade now, Dwan still has to complete the game. For many years, Cates was quiet about the whole scenario but lashed out in frustration as Dawn refused to either continue the match or pay the 7 figure buyout. The move Tom Dawn has been regarded as a bluff or as Doug Polk referred "largest scam in the history of poker."
"He's been paying me penalties every two months lately," he said. "He wants me to point out he's given me something like $700,000 or $800,000, basically in penalties, since 2010," said Cates in 2017.
In Conclusion
The central questions like what happened to Tom Dawn or 'where is he?' were answered when he explained that he was in Macau with plenty of opportunities.
"I've been playing a lot in Macau because the games are a lot bigger. Since a lot of the online sites got shut down, there were a lot of pros competing for less and less spots in big live games, and the games were less good, smaller and at the same time Macau was exploding."
After $250,000 cashes in three years and a marriage has helped him regain the reins of his life. 
Will we ever see Tom Dwan atop the success of poker again? Share your thoughts in the comments below!
Want to learn more about rummy and poker? Follow Academy52 for regular updates.
Follow us on Facebook, Instagram & LinkedIn for more quirky updates, tips and articles.
0