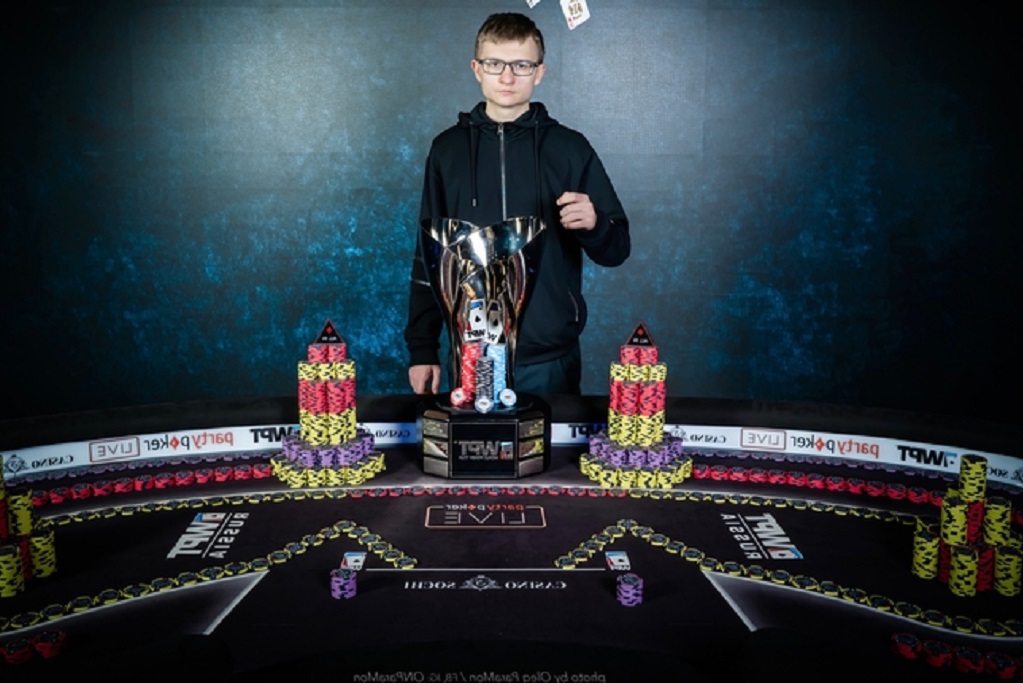 A new World Poker Tour Russia Main Event champion has emerged from the beautiful Casino Sochi in Krasnaya Polyana, a mere 19-year old Maksim Sekretarev. The WPT Russia 3rd event had 251 entries for the ₽245,000/$3,328 main event, 32 top finalists getting a slice of ₽54,247,551/$726,832 price pool.
How It Happened
In a short-lived final table, Maksim Sekretarev went all thunderstorms on his opponents, and the World Poker Tour Russia Champions Cup will see his name etched on it. Sekretarev entered the WPT Russia Main Event with a small pool of results all achieved at Casino Sochi; just like a dream come true, the biggest payout day until now was ₽287,700 score of the flagship tournament.
One the final day, in less than four hours, Maksim Sekretarev wrote his first live poker victory as he backed the top prize of ₽11,996,600/$160,694, swept off everything on the final table and on two previous days with his aggressive gameplays.
Day 1 was finished with ₽77,400, double of the starting stack; on Day 2, Maksim Sekretarev was already trailing Vladimir Bozinovic on the leaderboard. Day 3 saw a risk of elimination but ended the penultimate tournament with a giant stack.
His aggressive approach in the final tables was with setbacks as he even became the shortest stack among the three finalists; however, a coin flip with ace-queen against Ravil Khamatgareev 's pocket jacks lead him to victory. Sekretarev had a head start over Andrey Volkov when the queen appeared on the flop; a few hands later, it all ended with king-queen held against ten-eight in an all-in preflop contest.
Post-Win Atmosphere
Volkov admitted with Russian media that he was happy with the runner up position after the WPT tournament, up with three big blinds; on Day 3, he was a short stacker entering the final table. He made a fabulous escape with the finalist remaining when ten-nine suited hit running cards to a straight to beat the set of kings of Sekretarev.
"Before the final six, I would have been happy to just ladder up to a fourth place, so finishing second is an amazing result," said Volkov. He got a consolation prize of ₽7,998,200/$107,135,.
2013 WPT Tournament Baiden champion Vladimir Bozinovic went home with the fourth position even when, very early into the game, he raised-folded pocket tens and became one of the shortest stacks. Maksim Sekretarev owned his chips with king-five versus king-jack.
Final Result WPT Russia 2021 Main Event
1st Place: Maksim Sekretarev (Russia) – ₽11,996,600/$160,694
2nd Place: Andrey Volkov (Russia) – (₽7,998,200/$107,135)
3rd Place: Ravil Khamatgareev (Russia – (₽5,840,450/$78,232)
4th Place: Vladimir Bozinovic (Serbia) – (₽4,325,650/$57,942)
5th Place: Vanush Mnatsakanyan (Russia) – (₽3,249,750/$43,530)
6th Place: Sergey Bobrik (Russia) – (₽2,477,300/$33,183)
As the chips went back and forth, with going down the board and coming up, Sekretarev pulled back at the top with a bang and smashed his final two opponents in just five hands.
What do you think about this win?
---
0