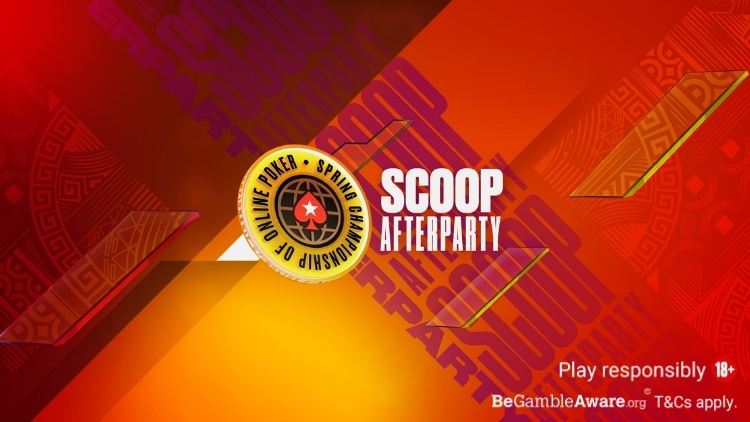 The PokerStars Spring Championship of Online Poker (SCOOP) may have just ended, but apparently, that does not mean that the festivities are actually over. On Tuesday, PokerStars kicked off the SCOOP Afterparty, another, shorter tournament series for players who are jonesing for more SCOOP.
The SCOOP Afterparty will run through Sunday, May 18 and consists of 60 triple-tiered events, so 180 tournaments in all. Just like with SCOOP, there are three buy-in levels to each event. The three Main Events are on May 16, with buy-ins and guarantees of $55/$1 million, $530/$1.5 million, and $5,200/$1.5 million.
PokerStars is also hosting daily freerolls which will award $250,000 in Afterparty tickets across the two weeks.
SCOOP awarded $140 million in prize money
SCOOP itself concluded late last week, attracting over 1.7 million entries. It blew through its $100 million in guaranteed prize pools, generating nearly $140 million in prize money across 102 tournaments.
"It has been amazing to see the PokerStars community come out in force for SCOOP and enjoy the schedule, promotions, and giveaways we have put together," said Severin Rasset, Managing Director & Commercial Officer, Poker, Product and Innovation at PokerStars. "SCOOP is one of our most popular series and players look forward to it all year. This year's series brings the total prize pools awarded to SCOOP players over the years to more than $1 billion, which is a huge achievement and all thanks to our community. Here's to next year!"
There were six SCOOP Main Events – three No-Limit Hold'em and three Pot-Limit Omaha. The star of them all was the $10,300 No-Limit Hold'em Main Event, which drew 664 entries and generated a $6.640 million prize pool. The $109 No-Limit Hold'em Main Event attracted the most entries at 38,913.
Many players had exceptional SCOOP series, but one person who stands out is the appropriately-monikered Benny "RunGodlike" Glaser, who won his sixth SCOOP title. He has won at least one SCOOP tournament each year since 2018. I would bet he both runs godlike and is quite skilled.
Player of the Series mixup
The Player of the Series, who won the High leaderboard in addition to the overall leaderboard was "Zapahzamazki." He almost did capture either one, though. After the final event, partypoker ambassador Patrick Leonard was listed as the champ of both the overall and High leaderboards. He knew exactly where he stood going into the last couple tournaments and was sweating Jussi "calvin7v" Nevanlinna, who needed to finish fourth in the last event to win Player of the Series. He came in 11th, given the title to Leonard.
But later that night, Leonard tweeted at PokerStars that he thought he was inadvertently given leaderboard points for a tournament in which he didn't cash and thus should have not received points. He believed Zapahzamazki should be the Player of the Series, which would mean he would win the all-or-nothing $25,000 prize.
The next day, PokerStars confirmed that Leonard had accidentally received points he didn't earn, though they were in other tournaments, not the one he thought. Leonard was crushed, though he obviously knew that it might happen, considering he is one who pointed it out.
PokerStars later sent him a message to apologize and to say they were still awarding him the money that he would have won if he won overall and High leaderboards: $45,000. In return, Leonard decided to donate it all to charity.
0