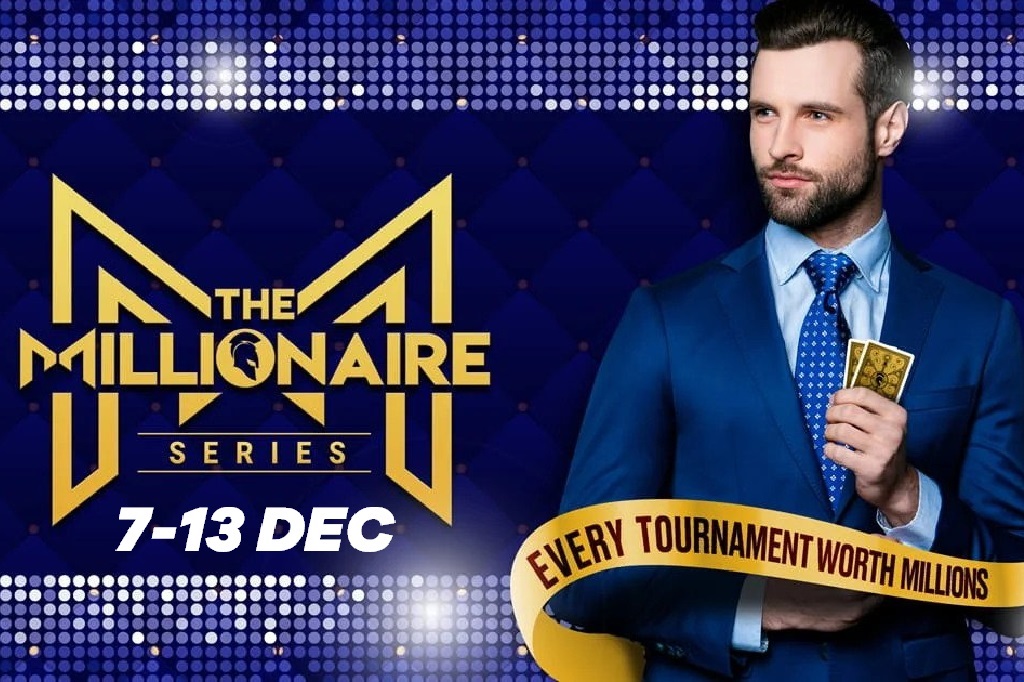 December 2020 just got a lot more bling as Spartan Poker's upcoming tournament, 'The Millionaire Series' has just been announced. This comes after successful launches of multiple flagship tournaments such as The Elite and Ultron, and notable series' including the India Online Poker Championship (IOPC) and the Grand Poker Series (GPS). The Millionaire is expected to be the top-performing tournament franchise on Spartan Poker.
The Millionaire Series
The week-long poker fiesta will run from 7-13 December and comes with a colossal prize pook of ₹5.7 Crores. Spread across 20 tournaments, the buy-ins will range from ₹110-₹27,500 to incorporate players from all stakes. The inaugural Millionaire Series is making headlines just as the ₹8 Crores GTD Final Table Series by Indian Poker Championship (IPC) has concluded on Spartan Poker.
The Millionaire Series Schedule
The action kicks-off 7 Dec, with at least three tournaments scheduled every day. The major attractions at the series are the event #12 Highroller and event #14 with ₹50 Lakh GTD each, event #18 with ₹40 Lakh GTD, event #8 with ₹35 Lakh GTD, and event #5 DeepStack with ₹21 Lakhs GTD. The Millionaire Series also brings D'Lite, a ₹10 Lakh GTD with a bargain buy-in of just ₹110.
The final Millionaire Series Schedule can be accessed at Spartan Poker.
The Millionaire Leaderboard Prizes

Spartan Poker's Millionaire Series also features a prize pool of ₹10 Lakhs for the leaderboards. The leaderboard finishers will receive 50% of their winnings in bonus money and the rest in power bonus.
The Millionaire Series Overview
The series is returning to Spartan Poker once again after shattering records with every edition. The event saw over 575 players register for its first edition in 2016, as the prize pool crossed ₹42 Lakh. Since then, multiple poker stars from all over the country have held the crown of 'The Millionaire' and the event is now bigger than ever.
The November 2017 edition of the series saw the prize pool break the ceiling of ₹1 Crore, and since then the event hasn't looked back. For the following editions, many events were added under the umbrella of the tournament, some of which have made a separate name for themselves. These include The Millionaire Legends, The Millionaire United and The Millionaire Lite. This year, The Millionaire D'Lite is making its debut. With this year's series just round the corner, we are sure many records are on the verge to be broken.
So head on to Spartan Poker, and maybe you can be the next 'Millionaire'.
0