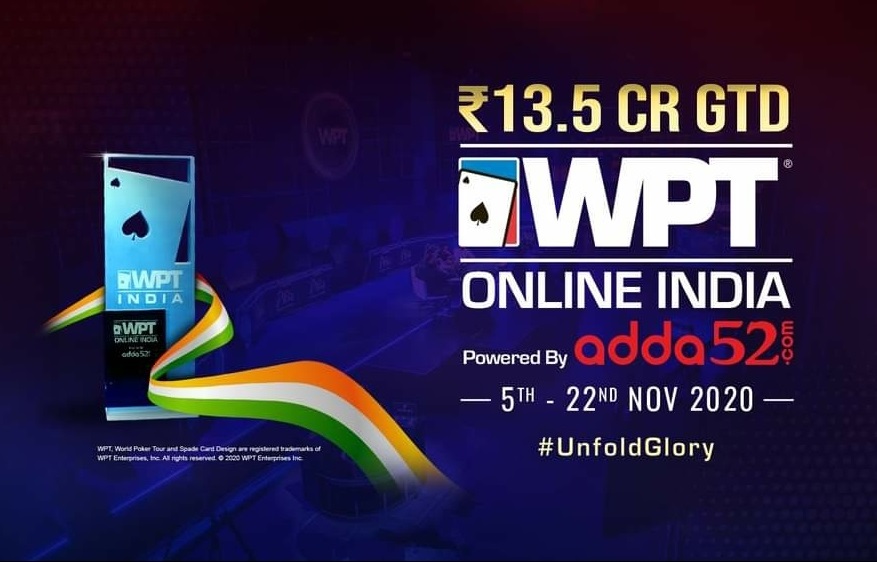 Even though the thrill of live-action poker tables and raging bets may be lost this pandemic season, online poker has been a hit with a plethora of major tournaments and boatloads of prize pools for players to get their hands on. While the online poker fever takes on, poker players have another reason to be excited about. From November 5, the World Poker Tournament (WPT India 2020) is all set to make a comeback to India, for the 4th time in history. Hosted by Adda52, WPT India offers top poker players from all over the country to stack their chips and fight for ₹13.5 Crores in prize pool guarantees.
Featuring over 154 events that will run from November 5 to 22, this prestigious 18-day tournament includes 3 Multi-Day events, ₹2.5 Crore GTD Main Events and the spotlight 31 trophy events. WPT India will also be giving away ₹35 Lakhs across two leaderboards, Mega and Mini, and the champions will be taking home a lot of gold and other value-added prizes. What's more, the viewers get a treat as well. A host of events at WPT India will be live-streamed online for the viewers to enjoy from their homes.
Adda52 And WPT Come Together
Adam Pliska, President and CEO of WPT, believes that the growth of WPT has been tremendous across the globe, especially the Asia-Pacific region, and WPT India will be another pinnacle for prize pools in the poker arena. Due to the COVID-19 pandemic hindering the tournaments across the globe, WPT India too had to adapt. Instead of the traditional 7-8 day event that adorns the poker tables in Goa, this digital-era series will be completely virtual, both for the players and the viewers. Moreover, the tournament will pay tribute to Mike Sexton, legendary poker player and commentator who passed away earlier this year.
So let the excitement flow, and let us have a look at the WPT Schedule.
2020 WPT India Schedule
The WPT India Schedule can be viewed on Adda52.
So what are you waiting for? Get your devices ready, check your internet connection, register for WPT India, keep the WPT schedule handy and you are good to go. The WPT online poker tournament is right around the corner, so head on to Adda52, and game on!
0