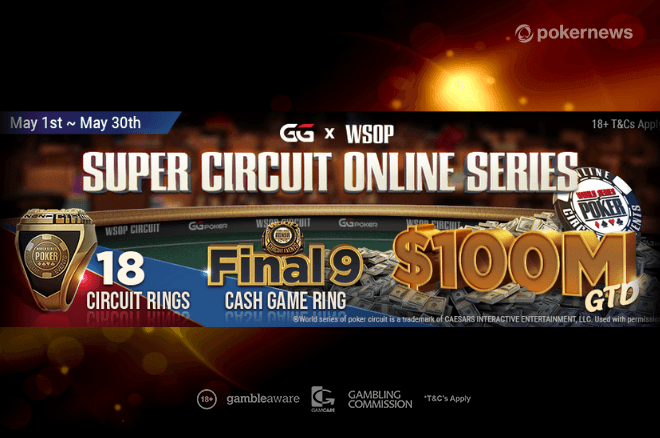 Are you ready for some rings? GGPoker has established itself as a major player in the Online Poker realm.
WSOP and GGPoker will kick off 2021 with an online series that offers $100 million in guaranteed prize pools and they will dole out 20 coveted WSOP Circuit rings with 18 set aside for cash game gurus.
The Main Event comes with a $25 buy-in along with a standard $5 million guaranteed prize pool. The WSOP Super Circuit online Series Main Event winner will become the first member of GGTeams Champions. They will get a $50,000 contract and all the parts of the GGTeam Champions.
The low-tier buy-ins makes the WSOP Super Circuit online an affordable series for players of all levels and bankrolls. The lowest buy-in is $25 and the highest is only $840. These events will be played on the weekends and on Tuesday.
You can snag a WSOP ring for as little as $25 at GGPoker in May. Event #7 Big 25 is a two-day event with a $25 buy-in and a guaranteed prize pool worth $1 million.
On Sunday, May 23, get ready for the running of the online PLO-donks with the super-fun PLO PLOSSUS which only has a $400 buy-in.
Other notable events
Event #6: GIANT has a $365 buy-in and a $1 million guaranteed prize pool.
Event#14:A Lucky 7s NL tournament with a buy-in of $77 and a $500K guaranteed pool prize.
Event #18: $525 buy-in Main Event takes place on Sunday, May 30 with a $5 Million guaranteed prize pool.
Event #15: $400 PLO PLOSSUS has a $1 million guarantee.
"When GGPoker & WSOP partnered in 2020, we broke world records," said GGPoker Head of Poker Operations Steve Preiss. "Our plans for 2021 are to offer even more to our customers. With massive tournaments, WSOP gold bracelets and rings, and a route into the live WSOP Main Event in November, we hope players will love what we have in store for them."
"The bar has been set with last year's record-breaking series, but we're hoping to raise it even higher this year," said Gregory Chochon, Director of the World Series of Poker. "One of our goals is to provide as many people the chance to become champions as possible. However, we know not everyone can or is comfortable traveling yet, so continuing a robust online bracelet offering in 2021 is a must."
---
0